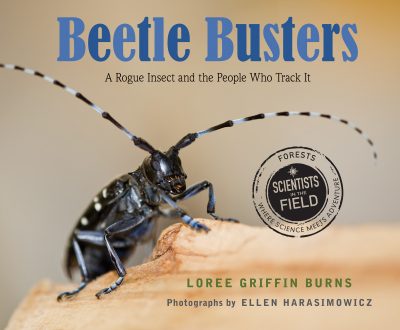 Summary
The Asian longhorned beetle (ALB) hails from China, where it's a harmless part of the environment. But when this striking, wood-boring beetle stows away in shipping materials and winds up on the other side of the planet, trouble ensues. With no natural predators to keep its population in check and an astonishing number of new species of trees to live in, ALB invasions take hold in several large cities: New York, Chicago, New Jersey, Toronto. In all cases, sharp-eyed residents spot the beetle early and fast-acting foresters are able to eradicate it until the beetle lands in Worcester, Massachusetts. In this gripping, real life drama, Loree Griffin Burns and Ellen Harasimowicz bring readers inside the quarantined zone of the largest ALB infestation in North America, introducing a team of foresters and researchers whose job is to balance the needs of residents, the environment, and an invasive species primed to wipe out the entire northeast hardwood forest.
Houghton Mifflin Harcourt, 2014
64 pages
Ages 12 and up
Honors
Junior Library Guild Selection
National Science Teachers Association (NSTA) Outstanding Science Trade Book
Maine State Library Cream of the Crop List
Reviews
Kirkus Reviews, Starred Review, October 1, 2014
Will chopping down 33,000 trees in Worcester, Massachusetts, save other forests from the destructive Asian longhorned beetle? Scientists are trying to answer that question as they battle an invasion that probably began 20 years ago in this central Massachusetts city that sits near the wild, natural forests that stretch north to Maine and beyond. Burns, who began her investigations as a resident of the affected area concerned about losing the trees around her, provides a clear, evenhanded description of this difficult issue. For now, chopping down trees and chipping their wood is the only known way to eradicate the pest. But it takes 30 years for new trees to mature. Is it worth it? The author provides solid background for her readers to ponder this question. Chapter by chapter she introduces the arresting-looking beetle, the trees that host it (more than a dozen species are vulnerable), the team of scientists and foresters working in Worcester, and research efforts in a nearby small forest. She presents data available so far and looks ahead to the likelihood of success in the larger battle across the country. Her narrative is framed by the experience of a teen who saw his favorite forest area cut and has watched it regrow. It's enhanced by Harasimowicz's clear photographs. A splendid example of science controversy in everyday life. (author's note, resources, glossary, bibliography and acknowledgements, index) (Nonfiction. 12-16)
Booklist, Starred Review, October 2014
When Asian Longhorned beetles (ALBs), tree-destroying insects native to China, were discovered in Worcester, Massachusetts, the reaction was swift. Officials dealt with the threat by removing potential host trees as well as those with signs of ALBs. This technique had been successful in previous infestations in urban areas. But Worcester borders a natural forest. As one of the project's scientists pointed out, "What do we have to lose? . . . The entire northeastern hardwood forest." This absorbing book opens with a boy, a member of his school's biodiversity club, discovering that someone has cut down trees in a part of the woods that he knows well. Backing up to discuss the ALB, its effects on certain trees, and its incursions into North America, the text follows the efforts of scientists and residents to stop the beetles' progress while observing and learning about the insect. Crisp, color photos show scenes as varied as the ALB life cycle, sawyers at work in a Worcester park, and volunteers replanting thousands of trees. Created for the Scientists in the Field series by the writer and illustrator of The Hive Detectives (2010) and Citizen Scientists (2012), this fascinating, timely book might just change the way readers look at insects and trees for good. — Carolyn Phelan
School Library Journal, Starred Review, January 2015
They arrived unseen, burrowed in wooden pallets, spools, and crates, aboard ships from China. The first group spotted in the United States, in Brooklyn, NY, was contained, and quickly taken care of, but since then infestations have been discovered from Massachusetts to Illinois, and as far north as Canada. They're Asian longhorned beetles, pests with "powerful jaws and a taste for wood" and the frightening potential to eat their way through North American forests. Griffin (sic) takes readers alongside a team of dedicated scientists and citizen volunteers working to eradicate this invasive species in a quarantined area in Worchester County, MA. Along the way, she explains how the creatures can go undetected for years (their life cycle begins inside trees, which keeps them heavily camouflaged) and offers information that early studies on the creature have yielded—not all of it hopeful. Abundant, close-up, color photos of the insect (from egg to pupa to mature adult), damaged trees, onsite workers, and informative labeled diagrams and maps help tell this disquieting story. Burns questions the approach of the scientists she followed and both admires and "trusts." But for her, the story is also personal. The author lives within the quarantined area in Massachusetts and has seen firsthand areas where swatches of infested (and other) trees have been cut down. Her questions about the method employed will leave readers asking some of their own—as they should. A timely, well-told story and a call to action. — Daryl  Grabarek
Horn Book Magazine, Jan/Feb 2015
From Asian carp to zebra mussels, invasive species can adversely affect our ecosystems and economy. Such is the case with the Asian longhorned beetle (ALB) that threatens no less an ecosystem than "the entire northeastern hardwood forest." The destruction begins when the female ALB lays up to twenty-five eggs in individual pits she carves into a tree. Once hatched, the larva bores its way deeper into the tree and remains there, growing steadily for up to two years; eventually the adult beetle chews its way out of the now-damaged tree. The cycle repeats and repeats and repeats, with ALB spreading like, er, kudzu. In Worcester, Massachusetts, Burns follows scientists and city residents who are looking for a way to eradicate this pest by employing the scientific method. They've hypothesized that taking the drastic step of destroying all of Worcester's infected trees–i.e., the ALB habitat–will eradicate the beetle. But they're not sure–a strong reminder to readers that a hypothesis is not a solution but part of a reasoned trial. Clear photographs, charts, diagrams, and a straightforward text with appropriate scientific vocabulary outline the problem, from the beetle's invasion and difficult discovery to the trees' destruction and replanting. Burns stresses that the success or failure of this project will take years to determine, showing that science is often less eureka-moment outcome and more slow process. Appended with a glossary, a bibliography, an author's note, recommended further research, and an index. Betty Carter  

Publisher's Weekly, October 3, 2014
With ostentatious striped antennae and an iridescent blue sheen, the Asian longhorned beetle is "a stunner," as Burns puts it. But looks can kill: the insect, introduced to the U.S. in recent decades, is massively destructive, chewing up many of America's hardwood forests. Photographs of the species, trees pockmarked by the beetle's "exit holes," maps, and details about scientists' efforts to remove infested trees create a narrative that unfolds like a detective story. In her third contribution to the Scientists in the Field series, Burns delivers a fascinating look at the origins of an invasive species and efforts to combat the damage it causes. Ages 10–14.
Bulletin of the Center for Children's Books, December 2014
The Asian long horned beetle (known as the ALB) arrived uninvited in several American cities in the 1990s; when the invader later appeared in the lush canopied arborscape of Worcester, Massachusetts, scientists and citizens were faced with a problem: how to keep the pest from spreading through the tree population without destroying the very trees that they were trying to save. This new entry in the Scientists in the Field series follows Clint McFarland, the federal project manager of the attempt to eradicate the ALB, but the title focuses even more strongly on "citizen scientists," those residents who were the first spotters of the infestation and who tramp through woods identifying its spread. Burns, herself a native of the afflicted town, often turns the narration to the reader ("If cutting trees in one community today would save the trees in your backyard tomorrow, would it be worth it?") and brings the problem even closer. Photos tell a grim yet interesting tale of ravaged trees and changed landscape (aerial shots provide a particularly telling before and after contrast), providing a blend of informative documentation and dramatic images. The subject and the youth of many of the participants give this title an immediacy unusual even in this excellent series, bridging the gap between scientist and reader in a way that invites kids into the process. Consequently, there is considerable opportunity to tie this to local fieldwork defending against invasive species and to invite young people into the front lines of scientific challenges in their own area. End matter includes a glossary, suggestions for further reading, a bibliography, and an index. DS