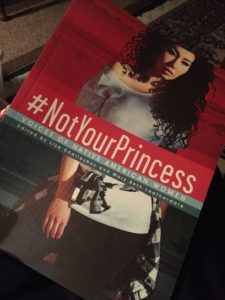 Hello, reader friends!
Popping in to share the topic of our next Fill-in-the-Blank Book Club event. We'll be meeting in person at the Beaman Memorial Public Library in West Boylston, Massachusetts on Thursday, February 12 at 6:30 pm, but you can join us virtually by reading and sharing your thoughts here.
Our topic this time around is 'The Other.'
In a time when our world feels divided, let's use books and our own intentions to bring it a little closer, shall we? Find a book outside your own culture or your own experience, read it, learn from it, and then share what you find with the rest of us.  I kicked off my own reading for this session with #NotYourPrincess: VOICES OF NATIVE AMERICAN WOMEN, and was drawn in by vivid art and compelling words. I was also blown away by Dashka Slater's THE 57 BUS. And I've got a copy of Ta-Nehisi Coates' BETWEEN THE WORLD AND ME on deck in my reading pile.
Explore. Read. Learn. Then join us to spread your (book) love.