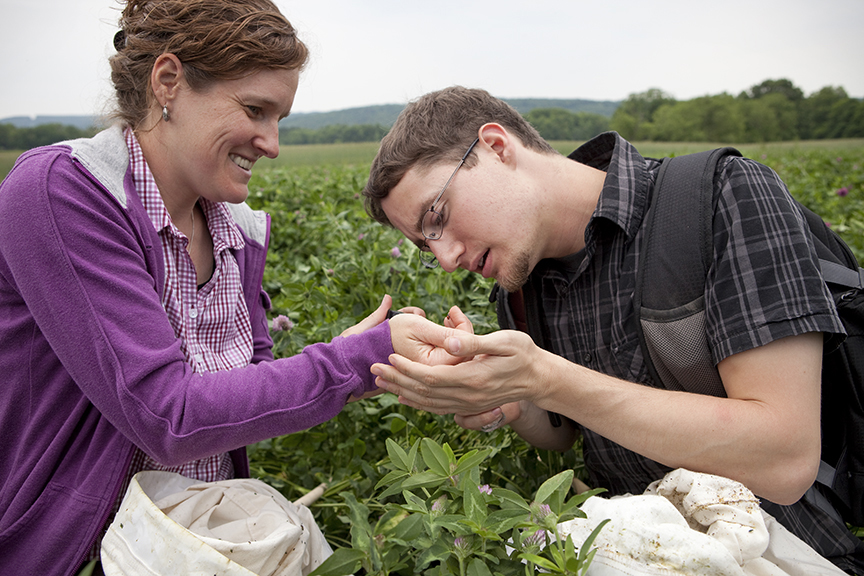 My Research
My third book, Citizen Scientists, grew out of experiences I had while working on my first two books. While researching Tracking Trash, I became involved in a worldwide beach cleanup event called the International Coastal Cleanup, sponsored by The Ocean Conservancy. And while writing The Hive Detectives, I stumbled upon The Great Sunflower Project, a nationwide survey of native pollinators conducted, in large part, by kids. Both are great examples of citizen science, that is, science carried out not by paid professional scientists, but by interested men, women, and children.
I became completely enthralled with the concept of citizen science. You see, I once worked as a professional scientist. And even though I had traded my lab bench for a writing desk, I still thought of myself as a scientist. The idea that I could still practice science—not just write about it, but do it—sort of took me by surprise. For example, I'd been watching birds at my backyard feeders for years … but it was a complete shock to learn that scientists at the Cornell Laboratory of Ornithology were collecting data from backyard birders like me in order to better understand bird populations. Could I practice science without a lab bench? In my own backyard?
To find out, I signed on to record the birds visiting my backyard feeders through Project FeederWatch. And since I have a friend who tracks local frog populations for the North American Amphibian Monitoring Project, I joined her for a season of frog watching. When I came across an advertisement for a butterfly-tagging event at my local Audubon sanctuary … I went.
It wasn't long before I'd begun to think about sharing the amazing experiences I was having with readers. I dreamed of creating a book that would introduce readers to citizen science, make them feel as if they were out in the field doing it as they read, and inspire them to participate the moment they were finished.
Researching the book turned into a string of unforgettable adventures. I explored new things, at home, often with help from my own kids. We tagged butterflies, hunted ladybugs, observed the night sky, counted turkeys, tracked wildlife, and so much more. Before long, we had activities for every season of the year. As we worked, we tuned in to our small patch of Earth, its immediate environment, and the ways they both change throughout the year. We also became much, much more aware of the plants, animals, and fungi that we shared our place with.
As if all this hands-on research weren't excitement enough, I also traveled the globe in order to interview scientists who have developed and run popular citizen science programs. I interviewed scientists in Rhode Island, upstate New York, Central Park and, most incredibly, in a grove of wintering monarch butterflies at the tip-top of a mountain in central Mexico. Photographer Ellen Harasimowicz joined me for many of these trips, and the photos she collected are simply stunning. You can see them in the book, of course, but also in this gallery on her website.
Teacher Resources
Hands-on Activities for Students
The kind folks at TeachingBooks keep a page of resources for all my books on their website. You can check it out here.
This book was written in hopes that it would inspire students, teachers, and families to participate in citizen science projects. All the information you need to get started is covered in the text and can be found on the respective project websites:
Audubon centers, national parks, and regional educational and environmental centers often coordinate citizen science projects. Visit the website of your favorite organization, or use the internet to search for a few near you. Two additional resources for finding citizen science projects that match your particular interests are:
SciStarter (formerly known as Science for Citizens) is the place to go to find citizen science projects on a wide variety of interesting topics.
The Cornell Laboratory of Ornithology also keeps a database of citizen science projects on its Citizen Science Central website.
For teachers using Citizen Scientists in their classrooms, check out this lesson plan from the wonderful educators at ScienceNetLinks.
Books with Related Themes
There are lots of great books for young people (and not-so-young people, too) that touch on the themes explored in Citizen Scientists. Here's are a few of my favorites. Enjoy!
ECO-TRACKING: ON THE TRAIL OF HABITAT CHANGE, by Daniel Shaw (University of New Mexico Press, 2010)
IF STONES COULD SPEAK: UNLOCKING THE SECRETS OF STONEHENGE, BY Marc Aronson (National Geographic, 2010)
HOW WE KNOW WHAT WE KNOW ABOUT OUR CHANGING CLIMATE: SCIENTISTS AND KIDS EXPLORE GLOBAL WARMING, by Lynne Cherry (Dawn Publications, 2008)
BAT COUNT: A CITIZEN SCIENCE STORY, by Anna Forrester, Illustrated by Susan Detwiler (Arbordale, 2017)
Educators may also want to explore the curriculum ideas shared in these great guides:
CITIZEN SCIENCE GUIDE FOR FAMILIES, by Greg Landgraf (Huron Street Press)
OUTDOOR SCIENCE: A PRACTICAL GUIDE, by Steve Rich (NSTA Press)
BRINGING OUTDOOR SCIENCE IN, by Steve Rich (NSTA Press)
CITIZEN SCIENCE: 15 LESSONS THAT BRING BIOLOGY TO LIFE, edited by Nancy Trautmann, Jennifer Fee, Terry Tomasek and NancyLee Bergey (NSTA Press)
My favorite introductory field guides and nature books are listed in the final pages of Citizen Scientists, but I am constantly finding new ones! Here are some recent favorites written especially for kids:
LOOK UP! BIRD-WATCHING IN YOUR OWN BACKYARD, by Annette LeBlanc Cate (Candlewick, 2013)
WHAT'S THAT BIRD? GETTING TO KNOW THE BIRDS AROUND YOU, COAST TO COAST, by Joseph Choiniere and Claire Mowbray Golding (Storey 2005)
THE LIFE CYCLES OF BUTTERFLIES: FROM EGG TO MATURITY, A VISUAL GUIDE TO 23 COMMON GARDEN BUTTERFLIES, by Judy Burris and Wayne Richards (Storey, 2006)
Web Resources
You can watch/hear me read from Citizen Scientists as part of an AAAS Book Talk  here.
Other citizen science projects I've participated in and recommend include:
Check out these online sites for help with identifying flora (animals) and fauna (plants):