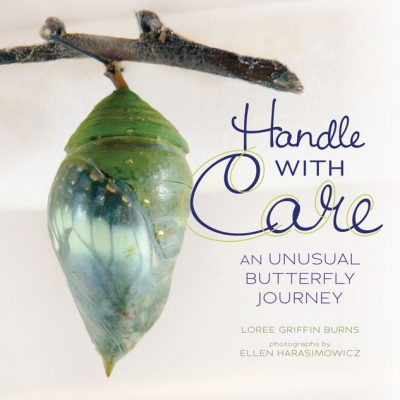 Summary
Have you ever heard of a butterfly farm? A place where caterpillars are raised in giant herds? They exist! Every day, on farms scattered around the world, herds of caterpillars are fed, watered, and protected from pests by their farmers. When the time is right, farmers sort, package, and ship their butterflies-to-be to conservatories, museums, and nature centers all over the planet … by express mail! Handle with Care details this incredible story, guiding readers from the artificial swelter of a live butterfly exhibit to the real-life swelter of a Costa Rican butterfly farm and through all the stages of the butterfly life cycle in between.
Millbrook Press, 2014
32 pages
For ages 4-9
Honors
Junior Library Guild selection
Finalist, SB&F Prize for Excellence in Science Books
National Science Teachers Association (NSTA) Outstanding Science Trade Book
Children's Book Committee at Bank Street College Best Children's Book of the Year
American Library Association (ALA) Notable Book for Children
Cooperative Center for Children's Books (CCBC) Choices selection
Reviews
School Library Journal, Februray 2014, Starred Review
Gr 1-4—Burns focuses first on the life of the blue morpho butterfly at the El Bosque Nuevo butterfly farm in Costa Rica and concludes with its final destination, the Museum of Science in Boston. Bold statements emphasize the details of the expedition through punchy phrases. "Sturdy and tightly sealed, these ingenious packages are ready to travel." Factual back matter further supports the story. Additional information appears in the section "Insects and Their Life Cycles," which discusses the process of metamorphosis. Crisp, full-page photographs capture each impressive stage of the butterfly's journey. Vocabulary is clearly defined within the text, and the glossary explains scientific terms used within the narrative. At the end, the author notes that she and the photographer visited the Costa Rican greenhouse to capture this amazing process. This fascinating topic, rarely featured for a young audience, offers an accessible, visual delight. –Meg Smith, Cumberland County Public Library, Fayetteville, NC
Booklist, January 2014
This colorful book takes readers to a butterfly pupa farm in Costa Rica. Captured and taken to greenhouses, varieties of caterpillars eat, grow, and molt. When they grow larger, the caterpillars are transferred to screened cabinets and supplied with fresh leaves until they become pupae. Some are kept to develop into butterflies and later released into the nearby forest. Other pupae are sorted, wrapped, packed into special boxes, and sent to places such as Boston's Museum of Science. Appended pages discuss the life cycles of insects and the varied names for the stages of insect development. Using proper terminology, Burns writes clearly about the butterfly's life cycle. For libraries overstocked with books on monarch butterflies, the blue morpho butterfly is often used as an example here. Throughout the book, crisp, nicely composed photos offer excellent views of the butterflies, people, and places mentioned. This will particularly interest children who have visited exhibits of live, tropical butterflies in conservatories and museums.
The Horn Book, May/June 2014
An explanation of the life cycle of butterflies gets an intriguing twist in this account of the work of a Costa Rican butterfly farm, where blue morpho butterflies are raised and the pupae eventually shipped to museums for display and observation. Detailed discussion of each stage in the butterfly life cycle—egg, larva, pupa, and adult—is accompanied by wonderfully sharp, close-up photographs that show intricate structural details, including a three-image sequence that illustrates the emergence of an adult blue morpho from its brilliant emerald-green pupa. It's a bit disconcerting, but also fascinating, to see the industrial overlay on a natural process: eggs are laid on cultivated plants within netted greenhouses, caterpillars at the right age are transferred to an isolated section called the puparium when they're ready to transform, and piles of plucked pupae are sorted and laid out for packaging and shipment. Additional information about metamorphosis, a glossary, and further reading are appended. Danielle J. Ford
Kirkus Reviews, January 2014
Beautiful butterflies on view in museums and gardens across North America begin life on farms in Costa Rica. In words and pictures, an experienced author-illustrator team explains the stages of butterfly metamorphosis that allow these popular insects to be raised at El Bosque Nuevo in the Costa Rican forest for the butterfly garden in the Museum of Science in Boston. This large, square album perfectly complements primary-grade butterfly studies. Crisply reproduced photographs show butterflies in all their stages, the greenhouse and other farm buildings where they are bred and grown, farm workers tending the caterpillars and collecting and packing the pupae, and finally, a child in Boston watching an adult butterfly emerge. A relatively simple text explains the insect's life cycle and the production process. Some science vocabulary—exoskeleton, pupa, molt—is defined in context. Only in the two-page backmatter (still aimed at the child reader) does the author use the word metamorphosis. There, she also connects the changes in butterflies to the stages of other insects. There's a map early in the narrative as well as a concluding glossary and appropriate suggestions for further reading and research. Sadly, the intriguing photographs of pupae on the front endpapers and adults on the back aren't labeled. Despite this miscalculation, an otherwise valuable addition to any classroom library. (bibliography, index) (Informational picture book. 6-10)
National Science Teachers Association (NSTA) Recommends, January 2014
Reviewed by Judy Kraus, Science Teacher, Hyde Park Middle School
Grade Level: 1-4. Care packages arriving in the mail are always a welcome surprise. Imagine one package arriving and within two weeks delicate wings are seen emerging from its contents. Handle with Care: An Unusual Butterfly Journey is the story of a greenhouse on a farm called El Bosque Nuevo in Costa Rica designed to raise butterfly pupae for museums around the world.
Here we enter an elaborate habitat that provides food, shelter, and safety for a community. Thousands of eggs are laid and develop into larva. These caterpillars eat, grow, and molt and then they eat, grow, and molt more until they enter the pupae stage. At this point, pupae are carefully packaged and shipped to museums for study and live insect exhibits. Against a tropical backdrop the scene is set and the reader follows the dirt road to the greenhouse.
Amazing photography awaits the reader on every page. Pupae pictured on the inside jacket range from shiny and silvery to striped or glassy green. A kaleidoscope of colors and ever changing shapes, masking the life within, will draw the reader into the text. The adult butterflies in their full glory adorn the back jacket with colors ranging from brilliant greens to neutral hues. Throughout the book, the blue morpho butterfly is featured with the caretakers of the greenhouse. Gentle hands move caterpillars or provide sugar water to butterflies. Leaf by leaf, plants are inspected and section by section, protective screens are surveyed to provide a safe haven for this precious community. Insect life cycle, vocabulary, glossary terms, and recommended reading lists are all provided in closing. The tips for visiting a live insect museum, as well as the author's note containing details of her own trip to Costa Rica, are insightful additions.