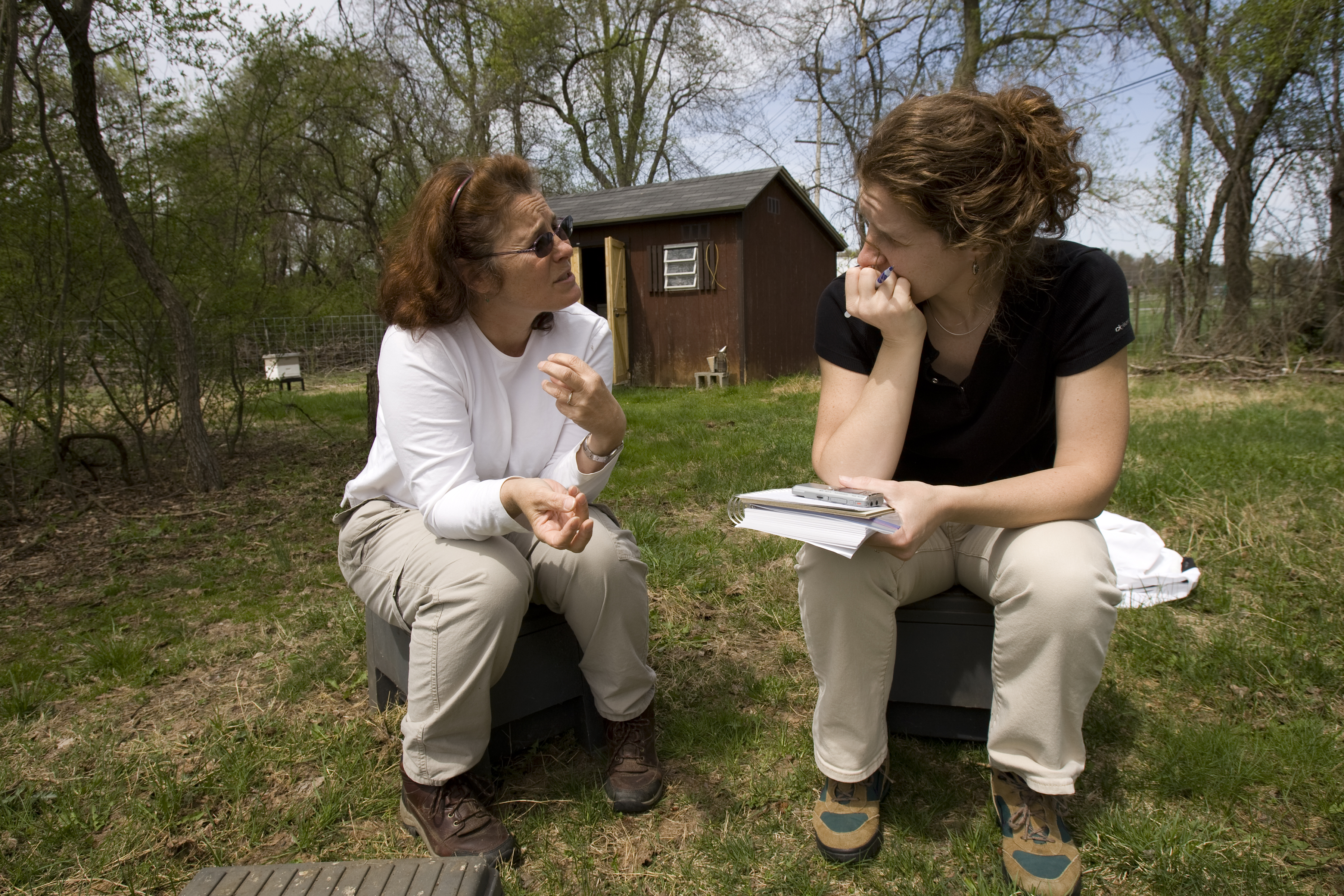 My Research
I didn't know much about honey bees when I began this project, so I spent lots of time learning. I read books, interviewed scientists, and attended bee school. Seriously. Bee school. I have a diploma to prove it! I also spent time with the people who know bees best: their keepers. Mary Duane, former president of the Worcester County Beekeepers Association, invited me into her backyard apiary and patiently taught me how to work with bees and manage their hives. To her surprise (and mine!), Mary becoming a vital part of my story.
I also spent time in larger bee yards observing and talking to the men and women working to understand honey bees and their mysterious decline. Photographer Ellen Harasimowicz accompanied me on these research trips, and the photos she made are stunning. You can see them in the book, of course, but you can also view a collection in this photo gallery on Ellen's website.
Teacher Resources
The Making of The Hive Detectives
Students and teachers can learn about the people and stories that shaped The Hive Detectives by reading this series of blog posts I wrote in 2010. Houghton Mifflin Harcourt has also created a Discussion & Activity Guide for the book, which includes Common Core connections. You can access the guide by clicking the link above. (It will download as a PDF.) Also, visit the Scientists in the Field website for updates on this and all the Scientists in the Field books.
Hands-on Activities for Students
The coolest activity, of course, would be to keep bee hives on your school property. You'd be helping the bees and your local environment, providing a great on-site learning experience, and producing honey. Obviously this option isn't for every school. It requires a goodly amount of space as well a parent or staff member with a passion for bees who is willing to monitor and care for the hives. There are schools that do it, though, and I'd be happy to put you in touch with a few if you'd like to know more. Contact me at lgb (at) loreeburns (dot) com.
Local beekeeping organizations often support educators by sending beekeepers into classrooms, sometimes with an observation hive in tow. Most states have such organizations; search the internet to find one near you.
Even if you can't keep honey bee hives on your school grounds, you can probably observe bees on your property during the warmer months. Check out your flowering plants, bushes and trees to see if local pollinators are visiting, then bring your students along for some up close encounters. You might also consider getting your classroom involved in The Great Sunflower Project, a simple citizen science project aimed at better understanding native bee populations. There are additional honey bee citizen science projects listed in the Web Resources section below. Be sure to check them out!
The Xerces Society maintains a great page of pollinator resources on their website, including instructions for making simple artificial nesting sites for various native bees. These nests can often be studied after the bees have abandoned them. For more information, and for links to sites with similar resources, visit the Xerces Society's Pollinator Resource Center and click on your region of the country.
Although I have not yet gotten my own hands on a copy, NSTA Press released a curriculum guide called Citizen Science: 15 Lessons That Bring Biology to Life that is recommended for teachers working with students in grades 6-12. It is worth checking out!
Books with Related Themes
There are lots of great books for young people (and not-so-young people, too) that touch on the themes explored in THE HIVE DETECTIVES. Here's an annotated list to get you started. Enjoy!
Web Resources
The Discover Life website has a wonderful collection of bee resources, from photographs to identification guides and beyond. Discover Life is also home to information on the citizen science project known as Bee Hunt. Other bee-themed citizen science projects include:
Haagen-Dazs has created a website to keep bee lovers and ice cream consumers aware of honey bee health issues. The site includes free, downloadable educational tools for teachers and parents. It's called Help the Honeybees, and its worth a look. Whatever you do, don't miss these public service announcements on the site:
If your students liked those hip PSAs, check out this bee rap video from MCMrNapkins. It is unBEElievably fantastic!