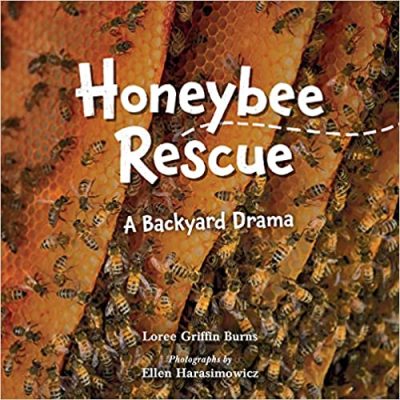 Summary
Beekeeper John Connery has a problem: a colony of honeybees have moved out of their backyard box hive and into his ramshackle garage. With a New England winter on the horizon, the bees aren't likely to survive if they stay there. But how does one relocate 70,000 honeybees and their honeycomb? Enter Mr. Jon Nelson, bee rescuer. This is one backyard drama you don't want to miss.
Charlesbridge Publishing, 2022
40 pages
For ages 5-8
Honors
Reviews
Kirkus Reviews, April 13, 2022, Starred Review
When Mr. Connery, a beekeeper, hears his garage buzzing and finds a colony of bees setting up housekeeping inside, he knows just what to do.
He calls Mr. Nelson, who arrives with his bee-vac, a special vacuum cleaner designed for exactly this situation. Mr. Nelson uses it to gently remove some 35,000 honeybees from the wax comb they've built in Mr. Connery's garage and keep them safe while the two White men reconstitute the bees' comb in a new hive for Mr. Connery's garden. Burns, a beekeeper herself, describes the action in vivid, economical prose: "Vacuuming bees requires both patience and stamina." She interlaces contextual information into her narrative, so readers learn why bees swarm, how they build their hives, and how Mr. Nelson's bee-vac works even as they follow the riveting story. Harasimowicz's crisp photos document the process clearly (that it plays out on a gorgeous summer day helps); occasional superimposed arrows with labels orient readers visually. Readers in beekeeping households will note some oversimplification that allows Burns to dive right in to the adventure, but her information is scrupulously accurate after that. They will also observe that Mr. Nelson works without a veil, a fact addressed in a closing Q&A. A glossary, sources, further reading, and acknowledgments round out the backmatter.
Both an excellent nonfiction adventure and a novel addition to honeybee lit. (Nonfiction. 6-10)
School Library Journal, June 1 2022, Starred Review
In a photographic essay, readers learn what happens when a man finds bees in a place where they just don't belong. Mr. Connery keeps bees, and one day he discovers some of them have set up a new hive in a barn on his property. Mr. Connery calls a friend, Mr. Nelson, to help him solve this problem. Harasimowicz's very interesting photographs show the whole process, from discovery to relocation. In beautiful full color, these perfectly show off the bees and their hives—both their own work, and the human-made hives. These images also show the specialized tools the men use to both capture and keep the bees, including a device that Mr. Nelson constructed that works like a vacuum cleaner. The text is simple but very engaging, describing the process clearly. A book like this could be an excellent opportunity to show young readers steps in a process and that even though bees can sting, they are also useful and pleasant creatures to be protected and not feared.
VERDICT: This excellent piece of reporting would be a great addition to any library serving elementary readers.
The Horn Book, July/August 2022 issue
This clear and engaging book documents the painstaking work of relocating a hive of honeybees that has outgrown its hive box. In Burns's conversational text, readers are introduced to Mr. Connery, who owns a "ramshackle barn" where he's discovered a colony of honeybees. He calls on the services of Mr. Nelson, a bee-rescue expert. Harasimowicz's eye-catching photographs document the entire relocation process, showing each step required to carefully move thirty-five thousand bees to a safer spot. Nelson uses a lot of patience, specially designed tools (e.g., his bee-vac: a modified vacuum connected to a traveling case), and ­Connery's assistance to gently collect the bees, disassemble their hive, and move the colony to a larger hive box on Connery's property. Details about ­honeybee life and behavior are smoothly woven into the discussion. An illuminating interview with Nelson explains why rescuing honeybees is important and how he's able to do his work without protective equipment. Back matter includes a glossary, a source list, further reading, and an author's note. A book that will inspire ­further curiosity about this important ­pollinator. (Laura Koenig)