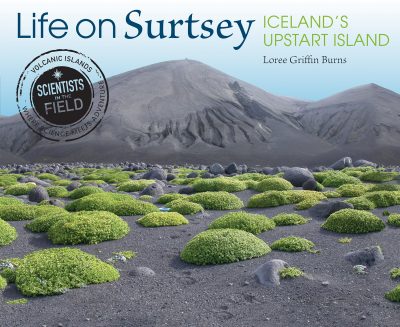 Summary
On November 14, 1963, something exceptional happened in Iceland–and that's saying a lot. In a country where the average summer temperature is 50ºF and the sun only appears for a few hours each day during the winter, an event has to be pretty unusual to stand out. The explosive birth of the island of Surtsey, the newest earth on Earth, was just that.
In her newest Scientists in the Field book, Loree Griffin Burns joins entomologist Erling Ólafsson on his yearly expedition to Surtsey, where since 1970 he has studied the arrival and survival of insects. Along with a small group of colleagues from the Icelandic Institute of Natural History, Erling observes the island's flora and fauna, records changes, and collects samples to bring back to the mainland for further study. Visit by visit, record by record, these scientists are uncovering the process that can transform a lump of steaming lava into a thriving island ecosystem. Join the expedition to see just how demanding conditions on Surtsey can be, what it's like to live and work while making the smallest impact possible, and the passion that sustains scientists working in one of the strangest—and youngest—places on the planet.
Houghton Mifflin Harcourt, 2017
80 pages
For ages 10 and up
Honors
Reviews
Kirkus Reviews, October 15, 2017, Starred Review
Visit a nearly pristine world with an entomologist who's studied this new island almost since its birth in 1963.
Burns describes field research on Surtsey, weaving the geological and ecological history of the island, raised from the ocean by volcanic eruption, into a fascinating account of scientists at work, with particular emphasis on the life's work of Erling Ólaffson, who studies the island's insects. The author was privileged to join him and eight other researchers in July 2015 for a five-day visit to this natural laboratory for watching the progression of life; this once-barren island is still open only to scientists. She's chosen details that will particularly interest her readers: the mechanics of insect capture, discovery of new species, day-to-day life. The seven men and three women (Icelandic except for the American writer and a Polish botanist; all are white) came by helicopter, stayed in a hut built for researchers, used designated bathroom areas (No. 2 goes under rocks near the ocean to be washed away), and left nothing but wooden stakes marking research squares and new-to-island plants. Photographs by the writer and several team members, especially the entomologist who first visited Surtsey in 1970, include gorgeous scenery, the changing face of the island, team members, and close-ups of plants, animals, and even the lava itself to help readers picture this unique experience.
An amazing science adventure well worth the trip. (glossary, further information resources, source notes, bibliography, acknowledgements, photo credits, index) (Nonfiction. 10-16)
Booklist, November 15, 2017, Starred Review
A violent volcanic eruption off the coast of Iceland in 1963 marks the beginning of this informative entry in the Scientists in the Field series, as well as the formation of a brand-new island, Surtsey. After nearly four years of eruptions, the volcanoes quieted and Surtsey was declared a nature preserve, offering scientists a rare opportunity to study the entire evolution of a land relatively free of human influence. Burns chooses not to focus on geology, as one might expect when dealing with volcanoes (though it is touched upon), but on how life has taken hold on this young island. She centers the book on entomologist Erling Ólaffson, who made his first trip to Surtsey in 1970 and has been studying the island ever since. For one week each summer, Erling joins a scientific expedition to the island, which collects samples and observes all the changes the year has brought. Burns clearly conveys the long hours and spare conditions for such work (there's no bathroom!), as well as the research team's unmitigated enthusiasm. The numerous photographs illustrate the changing conditions on Surtsey, from its altered shape to the arrival of plants, nesting birds, and, of course, insects. Appendices offer insights into Iceland's culture and extreme climate, all of which enrich this unique demonstration of life's awe-inspiring tenacity. – Julia Smith
School Library Journal, December 2017, Starred Review
A baby boy was born in Iceland on September 28, 1949. As is Icelandic tradition, he was not named until his parents got to know him better—eventually, he become Erling. In 1963, when he was 14 years old, an epic volcanic eruption gave birth to a new island, named Surtsey, just off the coast of Iceland. This provided scientists with a rare opportunity to study how life takes hold in a sterile environment, and so the Icelandic government made Surtsey a preserve. Science writer Burns tells two parallel stories in this fascinating and informative entry in series—that of Erling's life and of his lifelong fascination with and study of Surtsey. The author traveled to Surtsey with Erling and a team of scientists in the summer of 2015. They stayed on the island for five days meticulously collecting samples of plants, insects, and soil, as well as counting birds and their nests. The fascinating, careful text not only explains the science cogently but adds insight into Icelandic culture and language. The book's design is clean and eye catching, and full-color photographs of the island, the scientists at work, their living quarters, and the flora and fauna that they study are sprinkled throughout. VERDICT A plethora of curriculum connections make this a STEM title not to miss; budding scientists will return to this again and again.–Brenda Kahn, Tenakill Middle School, Closter, NJ
Bulletin of the Center for Children's Books, December 2017
The Scientists in the Field series travels to one of its most interesting fields ever in this volume following Erling Ólafsson, an entomologist who studies insect life on the Icelandic island of Surtsey during brief annual visits with his fellow researchers. An uninhabited volcanic island formed in 1963, Surtsey has provided an unparalleled laboratory for observing the gradual population of an ecosystem by life as seeds wash up on the shore, birds nest, and, to Erling's delight, insects arrive. Burns traveled to Surtsey with the researchers and she gives full, glorious details about the island's history and landscape, and since Erling himself watched Surtsey's birth as a teenager and fell for the place when he visited there doing research at university, he's a perfect focus for discussion of the place's biology over time. The scientists' love for their work is clear and understandable, and readers will relish the front-row seat on the slowly developing ecology and gain a new understanding of an ecosystem not as a static list of inhabitants but as a dynamic pattern of interrelationships. Color photos document the scientists' work, the surroundings, and, most intriguingly, the changes in the island over the years. End matter includes appendices on subjects including Icelandic names and the Icelandic alphabet plus other recent "upstart islands"; a glossary; sources for quotes and for more information; and an index.  ~Deborah Stevenson
Nerdy Book Club, December 2017
Dr. Loree Griffin Burns is one of the best science writers creating books for kids today. With her descriptive writing style and her ability to break down complex scientific processes into accessible ideas, her books provide inviting entry points for young scientists and not-interested-in-science-yet kids. In this new installment in HMH's stellar Scientists in the Field series, Burns explores the newly-formed volcanic island, Surtsey, and spends time with the scientists who are studying the island's creation and evolution. Surtsey's raw, dangerous beauty and its significance to scientific study will intrigue readers and promote interest in conservation, biology, and geology. An effective and engaging model of scientific writing for young writers, too. ~Donalyn Miller
Loree Griffin Burns's latest Scientists in the Field entry Life on Surtsey: Iceland's Upstart Island follows researchers including entomologist Erling Ólafsson, whose fascination with the pristine island that was formed in 1963 led to a decades-long career documenting its ecology. Burns meticulously documents every detail of life in a remote field station, prominently featuring the scientists' research methods and tools. Vivid photographs of field locations convey Surtsey's rocky landscapes and inhabitants. (Houghton, 11–14 years)   ~Kate Bircher