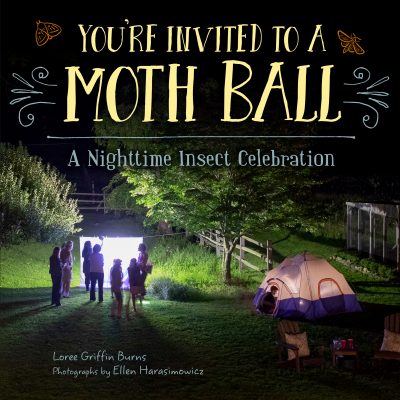 Summary
Most of us are asleep when moths come out at night, but what if we were to stay up late one night? What if there were a way to invite local moths onto our porches and into our green spaces? Moth-watching is actually a thing, and this book invites readers to give it a try. Through captivating photographs and clear, direct language, young readers are inspired to become young naturalists … and to have a ball doing it!
Charlesbridge Publishing, 2020
40 pages
For ages 5-8
Honors
Junior Library Guild Selection
Reviews
Kirkus Reviews, February 9, 2020, Starred Review
Full-color photographs accompany detailed instructions for attracting and studying North American moths as well as basic facts.
Early on, there is a candid shot of six kids sitting at a picnic table, verdant grass stretching out from all sides. (Five present white while one might be a child of color.) The children appear engaged in chatting and drawing pictures of moths. Superimposed in bright white type over the grass beneath them, conversational text explains that a moth ball is a celebration to honor "a spectacular insect" and invites readers to join in and learn more. Every page turn leads to bright, colorful photographs and further information. Layout, art, and text function together well. Without condescension, the text is ever fixed on its intended audience; after a thorough, illustrated listing of materials for a successful moth ball: "Did I mention we get to stay up late? Because we do!" photographs show the children setting up a sheet and lights for an observation area and then making snacks of rotting bananas and brown sugar to entice moths that respond more to sweets than to light. There are reminders to be gentle interspersed among facts that include differentiating between moths and butterflies, and the moth life cycle. The nature of the adventure assumes readers will have access to a private, nighttime green area in the summer as well as adults to help them.
Entomological ecstasy for rural and suburban budding scientists. (notes, glossary, resources) (Nonfiction.7-10)
Booklist, March 15, 2020, Starred Review
What's a moth ball? It's a party that provides opportunities for people to study moths at night. While this fully illustrated book lets readers experience a moth ball vicariously, its primary purpose is to show them how to plan and carry out their own events. First, the hosts "invite" moths by making a concoction of rotting bananas and brown sugar and brushing it onto trees and fences. Next, they set up a moth viewing area (a sheet hung from a clothesline and lit by "a special light bulb or two") nearby. Then, at night, people closely observe the moths that gather there. The text and illustrations highlight the anatomy of moths and how they differ from butterflies. With many large, appealing photos that show a group of kids happily involved in preparations during the day and enjoying the event at night, this volume has an inviting look, reflecting the encouraging tone of the text. While most hands-on science books present many familiar projects in quick succession and without much explanation, this volume does a thorough job of explaining a novel project and, through the illustrations, making every stage of the process look like fun. A handsome guidebook with an engaging approach to nature study.  — Carolyn Phelan
School Library Journal, April 2020
Gr 3-5–Burns and Harasimowicz have assembled a "Moth Ball" with all the instructions, procedures, and suggested resources needed to attract these nocturnal insects for study. Vibrant photography and informative text highlight the event's fun accessibility. The text and illustrations work together for both visual and verbal learning styles. There is artwork, book study, and preparations for the night-time activity. The participants make nectar by mashing bananas and brown sugar together, and then they paint it on tree trunks and fence posts. A white sheet and a light source are used to attract and collect the moths. The insects arrive; the citizen scientists learn which moths come to the light and which consume the nectar. When the observations are completed, a young girl is depicted alone in her tent studying a book on moths. Overall, the collective presentation is effective. Back matter includes a glossary, resources, and author's and photographer's notes. Be sure to check out both of them, especially the photographer's notes, because Harasimowicz shares how she overcame nighttime challenges. ­VERDICT An informative scientific adventure.–­Nancy Call, formerly at Santa Cruz Public Libraries, Aptos, CA