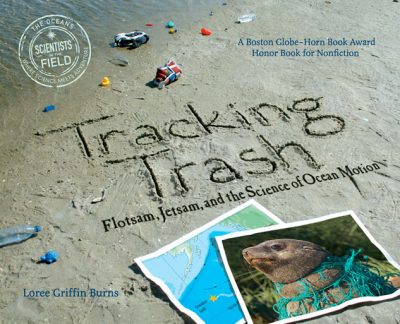 Summary
Aided by a ragtag army of beachcombers, Dr. Curt Ebbesmeyer tracks trash in the name of science. From sneakers to hockey gloves to LEGO pieces, Curt monitors the watery fate of cargo spilled into the ocean. The journeys he has documented are astounding and some — like the rubber ducks that drifted thousands of miles from the Pacific Ocean across the Arctic and into the Atlantic — have attracted substantial media attention. But the information Curt collects is much more than casual news; it is important scientific data. And with careful analysis Curt is using his data to understand and protect our world ocean.
Tracking Trash: Flotsam, Jetsam and the Science of Ocean Motion chronicles the development of Curt's unique ocean research program. In engaging text and unforgettable images readers meet the woman who started it all (Curt's mother!), the computer program that makes sense of his data (nicknamed OSCURS) and several scientists who are using his discoveries to preserve delicate marine habitat and protect the creatures who live in them.
Houghton Mifflin Company, 2007
64 pages
For ages 12 and up
Honors
Boston Globe-Horn Book Honor Book Award, Nonfiction category
IRA Children's Book Award, Nonfiction category
American Library Association (ALA) Notable Book for Children
Finalist, SB&F Prize for Excellence in Science Books
Orbis Pictus Recommended Books (NCTE)
The John Burroughs List of Nature Books for Young Readers
Kirkus Reviews Best Books of the Year
Boston Authors Club Highly Recommended Book
2007 Children's and YA Bloggers' Literary Award Finalist
Junior Library Guild Selection
Reviews
Kirkus Reviews, March 1, 2007, Starred Review
This entry in the exemplary Scientists in the Field series uses the work of Dr. Curt Ebbesmeyer and others tracking trash circulating through the Pacific Ocean to introduce readers to the science of ocean motion. Opening with an explanation of ocean currents and their role in distributing five containers of Nike sneakers that fell overboard in 1990, the author goes on to introduce Ebbesmeyer and his work. Interspersed are short sections explaining longitude and latitude; waves, tides, currents and gyres; and the plankton that share the surface currents. Maps and varied color photos support the text, printed on a background of appropriately patterned paper. Step by step, the reader of this engaging description of research involving familiar objects like tub toys and LEGO pieces comes to the profoundly depressing realization that the oceans of the world and the stomachs of marine animals are filled with indestructible bits of human trash, just in time for the section entitled, "What You Can Do." Endmatter includes an inviting list of books and websites to explore.
School Library Journal, March 2007, Starred Review
While the subtitle leads one to believe that the heart of this book is about the science of ocean currents, it's actually about why we need to protect our marine environment. Burns tells the tale of Dr. Curtis Ebbesmeyer, an oceanographer who started to track trash (flotsam) that washed up on the shore near his Seattle home. Through floating sneakers and bath toys that accidentally fell off container ships and a computer program named OSCURS, Ebbesmeyer tracked the currents of the ocean. These experiments led to a discussion of how debris is polluting our oceans and causing harm to marine life. Burns introduces the work of several scientists who are working to clean up ghost nets and other dangerous debris. The well-written narration will keep readers engaged, and it's excellent for reports. The science is clearly explained, and the vivid and lively photographs and well-labeled charts and diagrams help to create interest and build understanding. This title will get readers thinking and possibly acting on these problems. Esther Keller, I.S. 278, Marine Park, NY
VOYA, February 2007
On May 27, 1990, a cargo ship carrying goods from Korea to the United States in the Pacific Ocean dumped twenty-one of its cargo containers into the sea during a storm. Five of those containers were packed with Nike sneakers. Within months, these sneakers began showing up on beaches in and around Seattle, drawing the attention of Curt Ebbesmeyer, a scientist who studies ocean currents. For three years, Ebbesmeyer collected data on the sneakers washing up on shore and realized that they represented the largest oceanographic drift experiment ever undertaken. This book explains the science of studying ocean motion through tracking plastic trash that has made it into the sea through cargo spills or storm drains. The text is packed with full-color photos of the scientists at work as well as some pretty disturbing facts. Between mainland United States and the Hawaiian islands, there is a floating plastic garbage dump as big as the state of Alaska. There are also huge masses of discarded fishing nets—ghost nets—entangling all forms of sea life and drifting into coral reefs, creating massive destruction.
The writing is light, but the facts are weighty, and the message of reduce, reuse, and recycle comes across loud and clear. This book is fascinating on its own, but it also can hold its place in a middle-level science curriculum. The complex science behind the movement of the ocean is explained clearly with excellent supporting graphics. Additional books and Web sites are included for further study.
Booklist, April 1, 2007
In 1990, five containers packed with Nike sneakers were swept off a cargo ship during a storm at sea. In 1992, 28,800 floating bathtub toys spilled into the Pacific in a similar mishap. The book profiles two oceanographers who devised experiments using computer modeling programs of ocean surface current movement to predict the landfall of these drifting objects. They also gathered data from the beachcombing community to test their hypotheses. The last third of the book describes the mounting problem of plastic trash in the oceans and shows how this debris is destructive to marine life. Back matter includes a glossary, bibliographic notes, and short annotated lists of books and Web sites. Spacious layout, exceptionally fine color photos, and handsome maps give this book an inviting look, though its higher reading level indicates an older audience than some earlier titles in the Scientists in the Field series. A unique and often fascinating book on ocean currents, drifting trash, and the scientists who study them.
The Horn Book, March/April 2007
When the first Nike sneaker washed up on the coast of Washington, no one thought much about it. But when hundreds more followed, scientist Curt Ebbesmeyer discovered that the shoes came from a cargo spill in the Pacific Ocean. With that knowledge, he began building a hypothesis about the ocean currents in the Pacific. Other spills followed, most notably one of plastic tub toys, and the beachcombers and other scientists gathered drift information that expanded our knowledge of the ocean's patterns. Burns's first three chapters cover these events, conveying solid scientific explanations and clarifying such principles as charting, latitude and longitude, currents, waves, tides, and gyres. Photographs and detailed discussions of related subjects, such as cargo containers and windage, contribute much background information. The remaining two chapters, also buoyed with scientific explanations, discuss tracking fishing-net debris and the effect of ocean trash on the environment. Scientific information builds from chapter to chapter, creating a natural detective story. Appended with a glossary; further reading suggestions, including both books and websites; a discussion of sources; and an index. B.C.
The Bulletin of the Center for Children's Books, May 2007
Of the various and fascinating scientific endeavors examined in the "Scientists in the Field" series, Curt Ebbesmeyer's ongoing work must rank among the quirkiest. Following a newspaper lead suggested by his mother, the oceanographer has been tracing the surface currents of the seas via the movement of plastic rubbish that has escaped from broken cargo containers. With the aid of beachcombers, he carefully logs the landings of athletic shoes (identified by serial number as belonging to a particular wreck), plastic tub toys, and several other categories of floating refuse that can be traced to release in a verifiable place and date. Computer modeling helps confirm his observations that the paths the flotsam follows are the variable paths of the major surface currents. Other ocean scientists (at least the ones who are willing to take his efforts seriously) have subsequently built on his research to track huge buoyant corrals of junk known as garbage patches that collect inareas of current convergence. Hydrological information is clearly conveyed in the smoothly written text and in the half-dozen labeled maps that help readers visualize the trajectory of the currents and their relation to landfall of errant objects. Most powerful are the inescapable conclusions at which Burns arrives—plastic litter just won't go away, and sea life suffers for it. A gallery of color photos shows Ebbesmeyer and his colleagues at work or puckishly posing with bits of his collection. End matter comprising a glossary, index, and lists of kid-friendly sources not only augments the title's usefulness but gives some solid direction about how enthusiasts, particularly of a coastal ilk, can become involved in low-tech but crucial data collection.
Audubon, May/June 2007
A message in a bottle might be a beachcomber's dream, but a waterlogged shoe can also tell a tale. In Tracking Trash, Loree Griffin Burns meets several scientists from around the country who follow floating debris in an effort to better understand ocean currents and protect marine life. As "the world's leading expert on flotsam and jetsam," Curtis Ebbesmeyer ahs conducted ocean drift experiments by tracking spilled cargo containing everything from Nike sneakers to rubber bath toys. Captain Charles Moore's discovery of the "Eastern Garbage Patch"—a nexus in the Pacific where garbage accumulates on converging ocean currents—highlights the problem of the irresponsible disposal of plastics. Finally, the hot pursuit of abandoned fishing nets (or "ghost nets") by Mary Donohue and Jim Churnside helps save animals from entanglement and reefs from ruin. The book is careful to offset depressing photos such as that of a monk seal ensnared in a ghost net with uplifting ones, including scientists pitching in to collect debris. This book makes it clear that trash talks—and that we need to listen.
Wildlife Conservation, July/August 2007
Fact: The Eastern Garbage Patch in the Pacific Ocean is a floating garbage dump the size of Alaska. It took one week for Captain Charles Moore to cross the patch in his research vessel Alguita, and no matter where he looked, he saw floating plastic debris. Moore had come upon the trash in a convergence zone, an area where numerous ocean currents come together, forcing surface waters to sink.
Tracking Trash focuses on the work of three extraordinary scientists: Moore, who satellite tags killer "ghost nets" that have been lost, ripped, or thrown from fishing vessels and now, entangle sea life; Curt Ebbesmeyer, whose career in tracking trash, in the name of science and preserving ocean habitats, began when four huge cargo containers filled with Nike sneakers were swept off the deck of a ship; and Jim Ingraham, whose OSCURS computer program deciphers the flotsam and jetsam data collected in the ocean. First-time author Burns has a doctorate in biochemistry. Writing this book for the Scientists in the Field series, aimed at children 10-14, she wanted to inspire the next generation of scientists and conservationists. For certain, her book will fascinate people of all ages and lead them to serious thoughts of "reducing, reusing, and recycling"—instead of tossing things away.