I'm just about done processing the piles of notes and ideas that I brought back from Costa Rica last month. I've shared highlights from the beginning of the trip here, and my sense of balance won't let me move on until I've shared a bit from the end, too.
So … after four days on a butterfly farm in Guanacaste, my traveling companions and I set out for San Jose, where we would help collect, sort, package, and ship butterfly pupae from farms around Costa Rica. We took the long way in to the capital, though, in order to see more of the country. I was happiest here: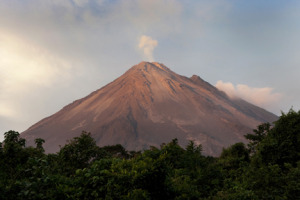 That's the volcano called Arenal, and I thoroughly enjoyed admiring it from the warm hot pools at its base. Thoroughly. I could have soaked there for days. Sadly, Ellen and Lea are CRAZY, and insisted that we dry off and go do this instead: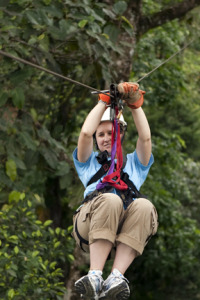 Ziplines!
Oh, the stories I could tell! The pictures I could show! Zipling was absolutely the craziest thing I have ever done, and I struggled through every single moment of our eight zip descent. But I did it. And I think I remember a moment or two of pure exhilaration. (Okay, maybe it was only a few seconds. But I will remember them always.)
Once we were safely back in San Jose, I got to do things more my speed, like play with piles of pupae. Check it out: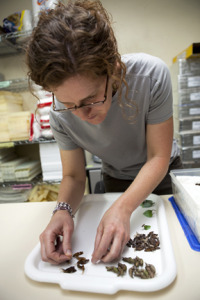 Ellen and I have put together a book proposal based on the story we documented in Costa Rica. Here's to catching the eye of a publisher with it!