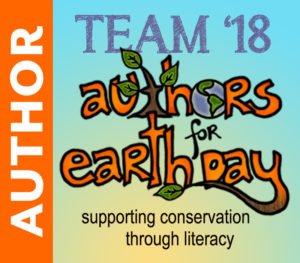 Here on the third planet from the sun, most of us feel gratitude for Earth's gifts and concern for her well-being every single day, not just on May 22. That's certainly true for the authors and illustrators I work with at Authors for Earth Day. A4ED is a team of children's book creators who commit to donating one school visit fee per year to a non-profit organization that is working to keep our planet and all its inhabitants healthy and protected.
This year, my first as an A4ED author, I've teamed up with Oxford Elementary School and an enthusiastic group of fifth graders. These devoted kids have committed themselves to helping me choose a worthy recipient organization for my A4ED donation. Under the direction of their incredible classroom teachers, they've spent weeks learning about Xerces Society, Ocean Conservancy, and Maine Audubon. They've educated their fellow-students about the work of each organization, and are coordinating a school-wide vote next week in which the entire student body will decide which organization to support.
It's been a thrill to introduce these kids to stewardship ideas, to watch them explore the good work of organizations I admire, to read their powerful letters of support, and to watch, via the internet, as they reached out to their entire school community today with their ideas. The real highlight of this experience, though, will come next week, when I'll travel to OES and spend two days talking about the natural world I love so much (ocean movement! butterfly journeys! honey bee mysteries! invasive species! grand new islands!) and, of course, deciding once and for all on where to send our A4ED donation.
STAY TUNED!
HAPPY EARTH DAY!
Postscripts:
For more information on Authors for Earth Day, including a list of hundreds of children's authors and illustrators who are available to visit your school in the 2018-2019 school year, visit the A4ED website.
For more information on how to be my A4ED school next year, contact me by email.