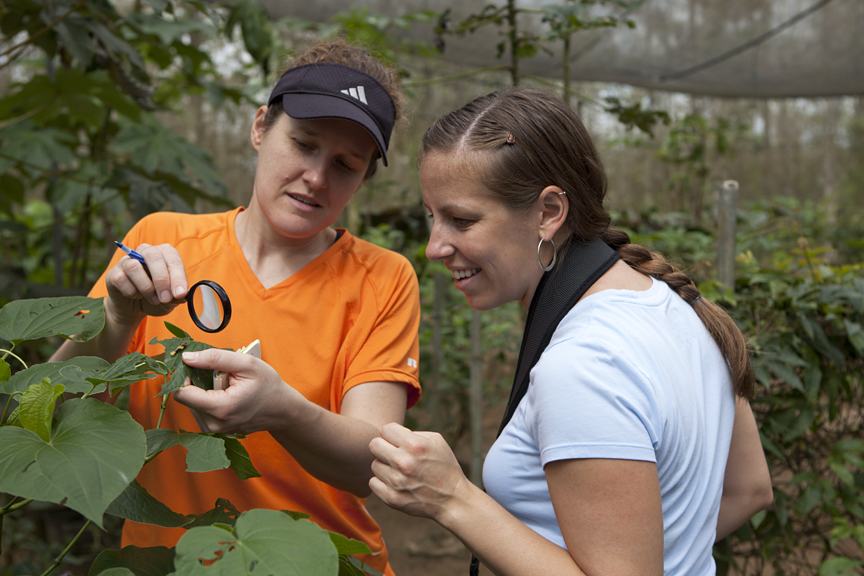 My Research
In the fall of 2008, I took my kids to the Museum of Science in Boston, where we visited The Butterfly Garden. The Garden is a humid little space on the second floor where one can walk into an exhibit of live butterflies. These live exhibits are fairly common, but this was my first visit to one. And I was smitten. Bright and bold butterflies flitted on all sides of us, occasionally alighting on a flower bud or on someone's head. Crazy. Crazier still was what I learned when talking to the exhibit docents: Most of the insects fly-by-ing our noses had hatched from eggs several weeks earlier … in Central America. I simply couldn't rest until I'd learned more.
I started by interviewing the curator of the exhibit, Lea Morgan. She showed me the back room at The Butterfly Garden, where hundreds of butterfly and  moth pupae were pinned inside plastic shoe boxes, waiting for the day they were ready to emerge as adults and be transferred to the exhibit room. While I was there, Lea received a box from Costa Rica. A delivery man dropped it off, as if it might contain something humdrum, like socks. Or books.  Inside were hundreds of butterfly pupae. I knew I had to write about their unusual journey.
Lucky for me, Lea is as generous as she is passionate. In addition to several more visits to her back room, I was eventually able to accompany  her to Costa Rica, where she introduced me to the farmers that raised many of her butterflies. Photographer Ellen Harasimowicz and I traveled to El Bosque Nuevo twice, living at the farm for several days both times, watching how the families there farmed herds of caterpillars.
Teacher Resources
The Making of Handle with Care

In addition to the commentary on this page, I blogged about the trips I took while researching this book. I'm in the process of moving these blog entries over to this website and will add a link as soon as they are ready. Stay tuned!
Teachers may also be interested in these teaching ideas from The Classroom Bookshelf. (These excellent tools were created by Professor Erica Thulin Dawes at Lesley University and shared at a Curriculum Connections event at The Eric Carle Museum of Picture Book Art in the spring of 2014.)
Hands-on Activities for Students
Teachers often ask me for ideas about hands-on activities they can do with their students while reading my books. For this book, a field trip to a nearby live butterfly exhibit is at the top of the list. Use an internet search engine to find butterfly houses in your area and, if you can, build a field trip around it. Outdoor butterfly gardens are a great place to visit, too. Better yet, plant a butterfly garden at your school! Then you'll be able to observe the life cycles of butterflies and all the other insects that come to call your new garden home. (Here's some info on how to get started.)
There are lots of companies willing to provide classrooms with butterfly rearing kits. I recommend the folks at MonarchWatch. Visit their Rearing Monarchs webpage for tips on how to get started and for information on how to order rearing kits.
The kind folks at Millbrook Press have prepared some classroom resources related to Handle with Care, and you can find them here. Don't miss the slideshow photographer Ellen Harasimowicz prepared; its a stunner!
Books with Related Themes
There are lots of great books for young people (and not-so-young people, too) on butterflies and their life cycles. Here are a few of my favorites.
BUTTERFLIES AND MOTHS, by Nic Bishop (Scholastic, 2009) — A stunning look at the various life stages of moths and butterflies. Don't miss this one!
THE LIFE CYCLES OF BUTTERFLIES: FROM EGG TO MATURITY, A VISUAL GUIDE TO 23 COMMON GARDEN BUTTERFLIES, by Judd Burris and Wayne Richards (Storey, 2006) — My favorite butterfly field guide for kids.
A BUTTERFLY IS PATIENT, by Dianna Hutts Aston and Sylvia Long (Chronicle, 2011) — A gorgeous picture book about butterflies and their lives.
THE DANGEROUS WORLD OF BUTTERFLIES: THE STARTLING SUBCULTURE OF CRIMINALS, COLLLECTORS, AND CONSERVATIONISTS, by Peter Laufer, PhD (Lyons Press, 2009) — If you think the story I tell in Handle with Care is unusual, this book of butterfly mania, written for adults, will knock your socks off.
Web Resources
Take your students on a virtual visit to El Bosque Nuevo butterfly farm!
The North American Butterfly Association website is a great resource for information on butterflies. Be sure to check out the information on their annual butterfly count, which happens each July in the United States.
Another great resource is the website called Butterflies and Moths of North America.
This book started with a trip to The Butterfly Garden at the Museum of Science in Boston. If you are in the area, check out their webpage and plan your own visit.
Can't get to a live butterfly exhibit? No worries. You can make a virtual visit to the exhibit at the Florida Museum of Natural History. You can watch butterflies emerge from a chrysalis, navigate the indoor canopy, or dine at an indoor feeding station, all via cameras that broadcast real-time video to the internet.
And if you can't get to Costa Rica anytime soon, be sure to visit El Bosque Nuevo on the web to see what is new on their incredible farm.