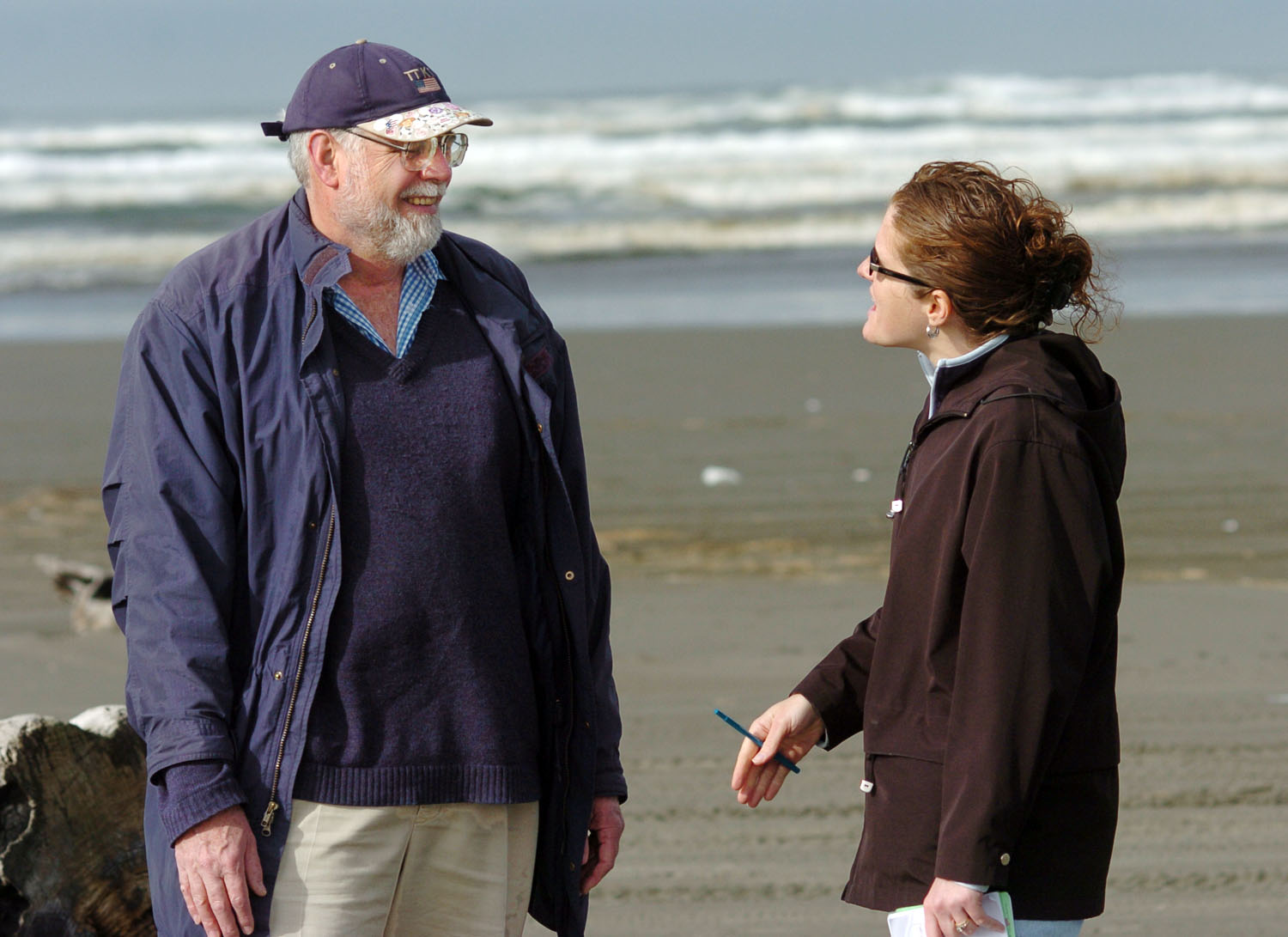 My Research
I made two trips to Washington while researching the book Tracking Trash: Flotsam, Jetsam and the Science of Ocean Motion. My good friend (and fabulous photographer) Betty Jenewin joined me both times, and she recorded the trip with her camera. You can see more of her photographs in the book. One of the primary reasons for the visits was to interview oceanographers Curt Ebbesmeyer and Jim Ingraham. Both men study surface currents in the Pacific Ocean, and they do so in an amazing way: by tracking floating trash across the sea.
In November 2004 I interviewed both men in Seattle. These were my first-ever in-person interviews and Curt and Jim made them truly special. Betty took lots of photos for the book, and I recorded four hours of tape … all of which had to be transcribed that night. This is a big part of my research trips, by the way: recording everything I see, do and discover. I take notes all day long and transcribe them at night in my hotel room, while everything is fresh in my mind.
A big part of the trash-tracking that Curt and Jim do involves hanging out with beachcombers. Beachcombers are folks who walk the coastlines in search of interesting things. Some beachcombers collect natural objects, like sand dollars and sea beans. Others collect not-so-natural objects, like glass fishing floats and plastic tub toys. To get a feel for the "work" these beachcombers do, Betty and I set off on our own beachcombing excursion during our first Washington trip. Curt and Jim recommended the beaches in Grayland, Washington and that is where we went. As they promised, we found plenty of flotsam and jetsam.
The beachcombing experience gave me a great perspective for working on the book. It also prepared me for my second Washington trip, which involved a visit to the Beachcombers Fun Fair in Ocean Shores, Washington. What is a Beachcombers Fun Fair? I wasn't sure myself, but I knew Curt was going there to meet and talk with the many beachcombers who help him track trash. Betty and I joined him to find out more. The fair was, in a word, FUN. There was something for everyone … collectable beach debris, seminars, a guided beach walk, the famous Dash for Trash and Treasure. I met beachcombers, scientists, families, and colleagues each of whom helped me to understand the unique culture that is the beachcombing community. I even gave my first live radio interview while at the event. KOSW, Ocean Shores' local radio station, broadcast live from the Fair and Sara Owen interviewed me about my book. That was a hoot! (As luck would have it, I ran into a man the next day who had actually heard my interview on the radio. I tried to be calm and cool about it, although I couldn't help but ask how I had sounded on the air. His response: "Next time hold the microphone closer to your mouth." Oh, well.)
John Anderson, one of the many beachcombers I met at the Fair, was nice enough to invite Betty and me to his home … a place Curt refers to as the American Museum of Beachcombing. How could we pass up that opportunity? We took the long way back to Seattle and headed north from Ocean Shores to Forks, Washington . The ride through the Olympic Peninsula was stunning and included amazing views of the Pacific Ocean and a bald eagle sighting. Neither of these, however, compared to what we saw at John's home. His passion for beachcombing was mind-boggling and his collection of beachcombed items left me speechless.
In February 2005 I traveled to Long Beach , California to meet Captain Charles Moore, founder of the Algalita Marine Research Foundation (now called Algalita Marine Research Institute or AMRI). Captain Moore and his colleagues at AMRI are dedicated to protecting and preserving our marine environment, and one of the ways they do this is by quantifying the amount of plastic trash floating in the ocean. The day of my scheduled visit with Captain Moore coincided with a planned research cruise, and I was invited aboard the research vessel Alguita for the afternoon. The weather was perfect, sunny and warm, and I was able to help the crew collect and observe various sea samples.
The marine life we saw during the afternoon ranged from large dolphins and sea lions to minute zooplankton, tiny clear-bodied creatures that float in the surface waters and that can only be seen under a microscope. (By the way, it is difficult to look at objects under a microscope when you are on a moving ship!) Richard Weaver, the marine biologist on board, found many organisms in the samples the crew pulled out of the ocean, including tube worms, red algae, an armored sandstar, sea urchins, sand dollars, flat fish, a large red rock crab and many, many others. Each sample also contained bits and pieces of plastic debris. A number of samples were processed and returned to the laboratory on shore, where scientists would examine them more carefully and determine exactly how much plastic was present.
The next day I met Captain Moore in his office for a more formal interview. When we were finished, he took me to a nearby beach for a glimpse into the extent of the plastic debris problem he and his colleagues at AMRF are working so hard to address. What I saw on that beach was sobering and gave me another perspective on the science of tracking trash.
Teacher Resources
The Making of Tracking Trash
The research trips I took while preparing to write Tracking Trash are summarized above and will give student writers a sense for the research that went into the creation of the book. Students and teachers can also learn about the people and stories that shaped the book by reading a series of blog posts I wrote in 2007. Finally, be sure to download the Tracking Trash Discussion Guide through the link at the top of this page, and to check out the Scientists in the Field website for news and updates related to this and all the Scientists in the Field books.
Hands-on Activities for Students
Teachers often ask me for ideas about hands-on activities they can do with their students while reading Tracking Trash or when preparing for a visit from me. My favorite recommendation is to get students involved in The Ocean Conservancy's International Coastal Cleanup. This annual beach cleanup is held every September in over 75 countries around the world, including most states in the USA. Finding cleanups near you is as easy as visiting The Ocean Conservancy's ICC website.
Another great resource for hands-on activities is Ocean Currents, Marine Science Activities for grades 5-8, a teacher's guide from Lawrence Hall of Science. You can order this book through your local independent bookseller or directly from the publisher.
Books with Related Themes
There are lots of great books for young people (and not-so-young people, too) that touch on the themes explored in Tracking Trash. Here's a short annotated list to get you started. Enjoy!
10 LITTLE RUBBER DUCKS, by Eric Carle (HarperCollins, 2005) — A picture book for your youngest readers; the book uses the ducky spill story to explore the concept of ordinal numbers.
DUCKY, by Eve Bunting (Clarion, 1997) — A fictionalized picture book account of the tub toy spill.
PETE PUFFIN'S WILD RIDE, by Libby Halton (Alaska Geographic Association, 2008)—The protagonist of this fictional picture book drops a favorite toy overboard while cruising in Alaska, and readers follow the adventures of the toy as it makes its way through the ocean.
DEXTER'S JOURNEY, by Chris d'Lacey (Crabtree, 2002) — This fictionalized ducky spill story is perfect for emerging readers.
PLASTIC AHOY: INVESTIGATING THE GREAT PACIFIC GARBAGE PATCH, by Patricia Newman, Illustrated by Annie Crawley (Millbrook, 2014) — An up-close look at three scientists exploring plastic in the world ocean, written for a slightly younger audience than Tracking Trash.
TRASH ACTION, by Ann Love and Jane Drake, Illustrated by Mark Thurman — This nonfiction title for middle graders takes a fresh look at garbage.
SECRETS OF A CIVIL WAR SUBMARINE: SOLVING THE MYSTERIES OF THE H.L. HUNLEY, by Sally M. Walker (Carolrhoda, 2005) — Award-winning nonfiction for upper elementary and middle grade students with an interest in the ocean and scientists who study it.
SHIPWRECKS: EXPLORING SUNKEN CITIES BENEATH THE SEA, by Mary Cerullo (Dutton, 2009) — A non-fiction book for upper elementary/middle-grade readers who are intrigued with other aspects of ocean science.
FLUSH, by Carl Hiaasen (Knopf, 2005) — Eco-fiction for older middle-grade readers.
WHO REALLY KILLED COCK ROBIN, by Jean Craighead George (HarperTrophy, 1992) — More eco-fiction for middle-grade readers.
20,000 LEAGUES UNDER THE SEA, by Jules Verne — A classic adventure novel set in the depths of the world ocean. What would Captain Nemo see through the windows of his Nautilus today?
THE HIGHEST TIDE, by Jim Lynch (Blomsbury, 2006) — A novel for adults and young adults that touches on issues of ocean pollution.
FLOTAMETRICS AND THE FLOATING WORLD, by Curtis Ebbesmeyer and Eric Scigliano (Collins, 2009) — An autobiography of Dr. Curt Ebbesmeyer, the star of TRACKING TRASH. This book is intended for an adult audience.
PLASTIC OCEAN, by Captain Charles Moore and Cassandra Phillips (Avery, 2011) — The story of the Great Pacific Garbage Patch as told by the man who discovered it. This book is intended for an adult audience.

Web Resources
* This documentary is stunning and speaks to the difficult-to-grasp concept that the garbage patch is not, in fact, an island of trash. It is a massive ocean area of accumulated plastic pollution the travesty of which is difficult to share in a single photograph or sound byte. PLEASE NOTE, however, that this documentary contains very strong language (lots of it, unfortunately) and adult themes that are not appropriate for younger students. I highly recommend teachers and parents preview the complete documentary before sharing it with students.