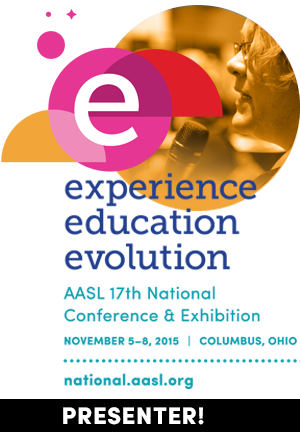 I'm thrilled to be attending the 2015 American Association of School Librarians annual conference in Columbus, Ohio in November.  Here's where you can find me a the event …
Friday, November 6
Presentation
To the Library … and Beyond
Loree and fellow children's author Sarah Albee will share creative approaches to research, suggesting ways to adapt the methods of the pros for student writers. This interactive workshop will be held at 11:20am in Room D230.
Signing
Loree will be signing books from 3:30-4pm in the conference exhibit hall. Look for the Author-Palooza signs at Booth #543!
Saturday, November 7
Presentation
Changemakers in Society: Books that Motivate Kids to Solve Problems and Make the World a Better Place
Loree will join Don Tate, Melissa Stewart, and Shana Corey for a panel discussion, moderated by author Laurie Ann Thompson. This event will be held at 8:40am in Room E-171 of the Convention Center.