Local Love: books, bookstores, and urban habitats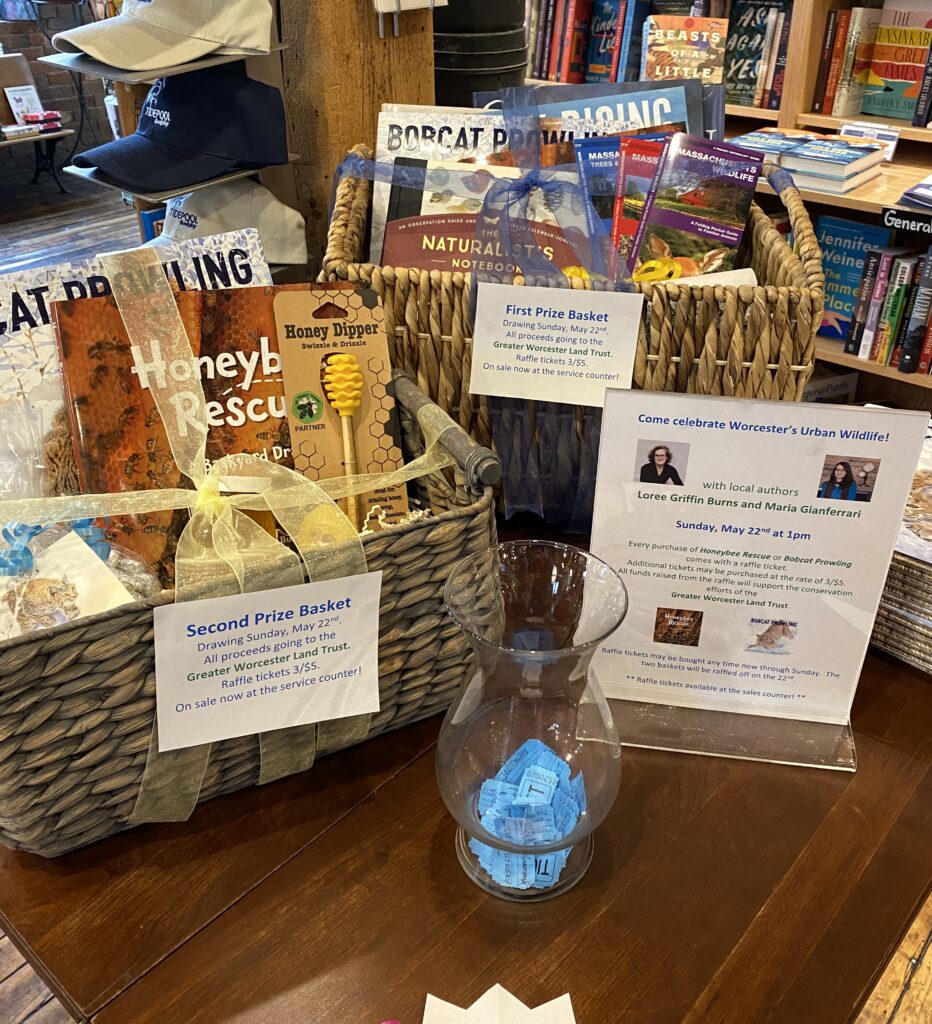 This past weekend, local author Maria Gianferrari and I launched new children's books about urban wildlife at Worcester's wonderful local indie bookseller, Tidepool Bookshop. And because all of us–Maria, myself, and Tidepool co-owners Jo and Huck Truesdell–live and work and play in Worcester county, we decided to make this launch event extra special by supporting an organization that we each believe in personally, the Greater Worcester Land Trust. We've created the two prize baskets pictured above and we are raffling them off, with all proceeds going directly to GWLT.

How do you enter? Easy! Visit Tidepool Bookshop (372 Chandler Street, Worcester, MA) and purchase a signed copy of either Honeybee Rescue or Bobcat Prowling; you'll get a raffle entry. You can purchase additional raffle tickets at a rate of 3 for $5, no purchase necessary.

What do you win? A lot! Here's the rundown …
Grand Prize Nature Lover's Basket
*Signed copies of Loree's books HONEYBEE RESCUE, YOU'RE INVITED TO A MOTH BALL, HANDLE WITH CARE and CITIZEN SCIENTISTS
*Signed copies of Maria's picture books BOBCAT PROWLING, COYOTE MOON, HAWK RISING and WHOO-KU HAIKU
*Pocket binoculars
*Naturalist's notebook
*Massachusetts field guide to wildlife, birds, trees & wildflowers
*AND … a virtual classroom/library author visit from Loree & Maria!
Sweet Runner-up Basket
*Signed copy of Loree's HONEYBEE RESCUE
*Signed copy of Maria's BOBCAT PROWLING
*Rescue honey from B.B. Apiaries (owner Jon Nelson is the star of Loree's book!)
*Honey dipper
*Hershey kisses

The raffle is open throughout the month of May, so find a time to get yourself over to Tidepool soon! We'll contact the winners after the drawing and you can pick up the basket at the store.