Calling All Nature Lovers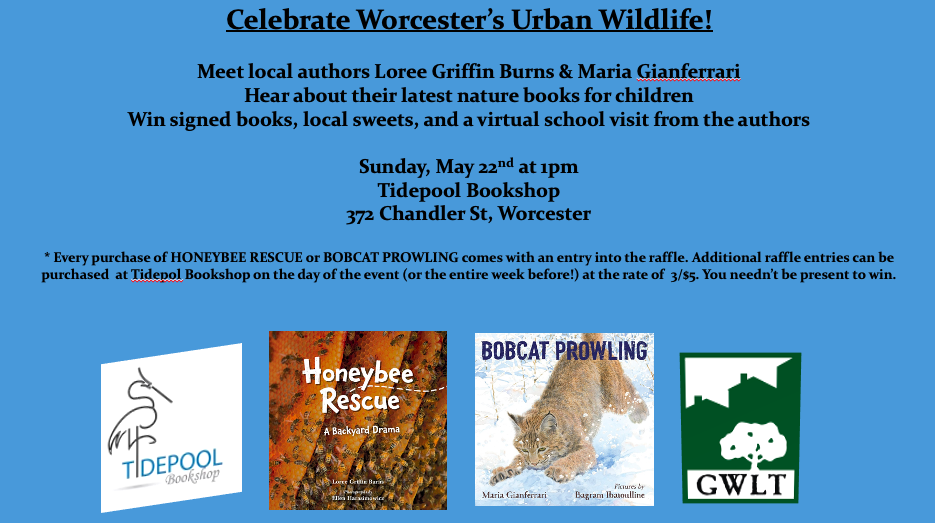 Please join me and children's author Maria Gianferrari for a celebration of nature, nature spaces, and nature books at Worcester, MA's TidePool Bookshop on Sunday, May 22nd at 1PM. We'll be chatting about our most recent nature books, HONEYBEE RESCUE (illustrated by Ellen Harasimowicz and published by Charlesbridge Publishing), and BOBCAT PROWLING (illustrated by Bagram Ibatoulline and published by MacKids Books) and also celebrating urban wildlife and habitats. We plan to raffle off two goodie baskets to raise funds for our favorite local conservation group, Greater Worcester Land Trust .
Order books through Tidepool here and you will automatically be entered into the raffle. You can also buy books in person at the store during the week before the event or at the event itself. Additional raffle entry tickets can be purchased, 3 for $5. The raffle baskets include:
Grand Prize Nature Lover's Basket
Signed copies of Loree's books HONEYBEE RESCUE, YOU'RE INVITED TO A MOTH BALL, HANDLE WITH CARE and CITIZEN SCIENTISTS
Signed copies of Maria's picture books BOBCAT PROWLING, COYOTE MOON, HAWK RISING and WHOO-KU HAIKU
Pocket binoculars
Naturalist's notebook
Massachusetts field guide to wildlife, birds, trees & wildflowers
AND … a virtual author visit from Loree & Maria!

Sweet Runner-up Basket
Signed copy of Loree's HONEYBEE RESCUE
Signed copy of Maria's BOBCAT PROWLING
Rescue honey from B.B. Apiaries (owner Jon Nelson is the star of Loree's book!)
Honey dipper
Hershey kisses

We would love to see you there! If you use Facebook, you can RSVP for the event here.